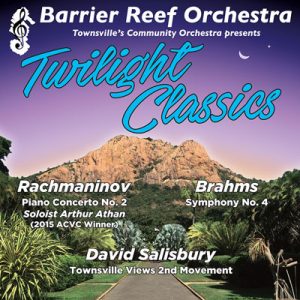 We are thrilled to announce that last year's instrumental winner, Arthur Athan (piano), is returning to us to perform with the Barrier Reef Orchestra this month! He will be playing Rachmaninov's spectacular Piano Concerto No 2 as part of the BRO's Twilight Classics Concert on 17 July. A concert not to be missed.  Tickets available at Ticketshop
We are proud to provide an opportunity for teachers and students in Townsville by extending an invitation to have Arthur conduct a Master class whilst he is here in Townsville on 15 July..  The masterclass on  will feature six talented piano students.
For further information about the masterclass call Robyn on 0419 854 561.
Just recently, the Australian Concerto & Vocal Competition was thrilled to have our open Vocal winner, Bronwyn Douglass (mezzo-soprano), come back to Townsville for an intimate recital at the Perc Tucker Gallery. She thrilled our audience with her beauty of tone, precise vocal control and unmistakable dramatic prowess as she performed some of the repertoire's most difficult pieces flawlessly. From the sorrow of Handel's Dove Sei to the drama of Wagner's Der Engel, Bronwyn captivated our audience from start to finish.
We'd like to thank Bronwyn for taking the time out of her very busy schedule to return to Townsville and gracing us with that spectacular voice once again.
Our ACVC 2015 Instrumental Winner at Monash University's Piano Sound Series Concert, Semester 2 2015
Josephine Chung our ACVC 2015 Instrumental 2nd placegetter, playing at the FM102.5 Fine Music Young Virtuousi Final 2015
Jenny Carr whilst teaching in Townsville for many years was also heavily involved in both the Barrier Reef Orchestra and Australian Concerto & Vocal Competition. In more recent years acting as an adjudicators' assistant for our event. Whilst in Townsville Jenny had done a little bit of composition and her students were often the recipient of these works.
Now living on the Sunshine Coast it is wonderful to hear that she will have this choral work performed in August on the Sunshine Coast.  Read all about it in Resonance and if you are down that way, get yourself along to a wonderful Concert.
Many of you will remember our Peoples Choice performer from a few years back, Van-Anh Nguyen.
Van-Anh is about to launch her fourth Album Seasons Of Love: Broadway & Opera Favorites.
She currently has three independent albums out including her solo piano album 'Mise-en-scene' (2008), her classical-crossover album 'Tonalita' (2012) and her piano and duo album with Melbourne based cellist, Chris Howlett entitled 'Sentimentales' (2013).
You can sample some of the songs here and visit Van-Anh's official website here.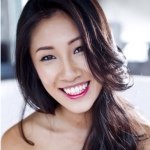 Congratulations to Australian Concerto & Vocal Competition (ACVC) participants who reached the 2013 finals of the ABC Symphony Australia Young Performers Awards.
Pianist Stefan Cassomenos reached the final round, and violinists Grace Clifford (our 2013 ACVC Open winner) and Harry Ward violinist, our Piano & Instrumental section winner.
The winner of the ABC award was Melbourne pianist Hoang Pham, who was proudly supported by violinist Ji Won Kim our 2008 ACVC winner who won the ABC Young Performers Award in the same year. Ji Won was part of the Melbourne Symphony Orchestra when Hoang Pham gave a magnificent performance of the Tchaikovsky Piano Concerto No 1 at the final concert in Melbourne.
Hikari Nakamura won the Open section of the  Nth Qld Concerto & Vocal Competition (now the Australian Concerto & Vocal Competition). She was then studying under Max Olding @ Qld Conservatorium of Music, Brisbane and performed the Tchaikovsky Piano Concerto at 9am on a Sunday morning. The adjudicator was none other than our dear friend the late Professor John Hopkins OBE. It was after this amazing performance to an audience of no more than five people (including the adjudicator!) that the decision was made to make the Open Section into two stages, a Preliminary Stage, and then a grand finals concert with five finalists chosen to compete for the major prizes.
Hikari is presently teaching at The Preucil School of Music in Iowa, USA, a school specializing in the Suzuki Method. Japanese born Hikari won the very first Secondary Schools Concerto competition conducted by the KPO  and returned to be a Finals adjudicator in 2008 for their 25th anniversary celebrations. Hikari continues to have a successful teaching and performing career in the United States.