The Australian Concerto and Vocal Competition is an internationally recognised competition held annually in Townsville.  It began life as a piano concerto competition in 1980 and has grown significantly in size and reputation, with the event now covering vocal, instrumental and school age sections.
Held over five days in July, the Competition attracts outstanding musicians from around the world who perform works from concerto and opera repertoires with professional accompanists. Entrants have come from places as far afield as Moscow, Poland, New Zealand and South Korea.
Its prestige as a national event is now well established with many of our Open instrumentalists being finalists and winners of the ABC Symphony Australia Young Performers Awards.
The Australian Concerto & Vocal Competition offers a unique opportunity for emerging musicians to be stimulated and extended.  The  Competition adjudicators are recognised both nationally and internationally for their expertise and interest in encouraging musical development.
Both the Open Instrumental Section and the Open Vocal Section are conducted in preliminary stages with all entrants performing their repertoires in full. The adjudicators of these sections will each choose three finalists to compete for the major prizes in the Gala Finals Concerts.    
Joy Rutledge Award sponsored by Mrs Dinie Gaemers – Most Outstanding Musician from Nth Qld $500
Rev Norton Challenor Award & Perpetual Trophy – Most Promising Vocalist sponsored by Ms Mary Paola $500
AUSTA (Nth Qld Branch) Award – Most Promising String Player $250
Frank Carroll Memorial Award – Most Promising Pianist $250
Most Promising Wind/Brass Player $250 sponsored by Arthur Florence of MusicAid
Audience Choice Award Open Vocal (Finals Concert) sponsored by Susan Grinsell Singing Studio $300
Audience Choice Award Open Instrumental (Finals Concert) sponsored by TripleT Classic Music Team $300
Youth Development Award sponsored by Mrs Dinie Gaemers, Arties Music and Australian Festival of Chamber Music $400+
Encouragement Awards (4 x ) sponsored by Arties Music $50ea
Performance Opportunities for Open Section Winners (see below)
Connecting performers with opportunities
The Australian Concerto and Vocal Competition is passionate about cultivating opportunities for musicians to expand their potential. Aside from significant cash prizes, ACVC awards two significant performance-based prizes. The John Hopkins Performance Fellowship is awarded to the winner of Section 1 Open Instrumental, along with a partnership opportunity with Barrier Reef Orchestra.
John Hopkins Performance Fellowship
The John Hopkins Performance Fellowship (JHPF), initiated by the late John Hopkins OBE AM (1927-2013), fosters musical opportunities through community engagement. John Hopkins, one of Australia's foremost conductors and music educators was an advocate for developing musicians and community ensembles. He also had a long-running and hands-on involvement with ACVC.
JHPF provides recipients with financial support towards travel, accommodation and associated costs of a performance with a community orchestra or ensemble anywhere in Australia. Alternatively, financial assistance can be directed towards producing a professional recording; purchase or repair of instruments; travel costs to an overseas location for a study project or any activity focussing on the development of the musical career of the winner that is approved by the ACVC Management Committee.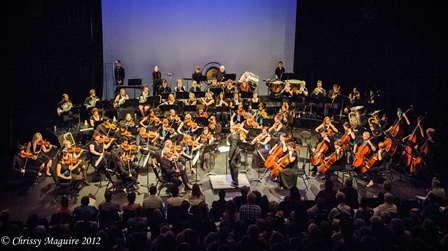 Barrier Reef Orchestra Performance
Under the umbrella of NQ Ensembles Inc , Barrier Reef Orchestra (BRO) is Townsville's premier community orchestra. BRO performs regularly and presents standard orchestral repertoire as well as new and world music. They perform under the baton of renowned local, national and international conductors.
Through their partnership with ACVC, BRO provides the winner of the Open Instrumental section the opportunity to perform as soloist in a public concert accompanied by the orchestra.
The prize also covers applicable travel and accommodation costs incurred by the winner in order to perform in Townsville. The performance is scheduled in the first concert of the immediate following year of the prize being awarded (at the discretion of BRO and ACVC management).