Townsville Civic Theatre
2pm   26 July 2015
Review by Katy Frewen-Lord, Townsville
The Open Vocal Finals Concert provided an opportunity for the public to witness the top three vocalists from the Australian Concerto and Vocal Competition. The vocal section has been newly separated from the instrumental section for 2015 as it has expanded in popularity and participation.
The preliminary round and the finals were adjudicated by internationally acclaimed Cheryl Barker AO. In attendance was Australian Concerto and Vocal Competition patron Piers Lane.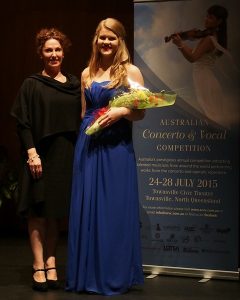 Cassandra Wright of Brisbane opened the show with Ach, ich fuhls from The Magic Flute (Mozart). Each note was placed on pitch with care and grace, resulting in a beautiful rendition. Continuing with more Mozart, Wright performed Giunse alfin il momento and Deh vieni, non tarder from The Marriage of Figaro. It was a confident performance with Wright proceeding assuredly even through passages where the accompaniment is sparsely scored. Massenet's Adieu, notre petite table from Manon provided great contrast with urgent flurries of music and a portrayal of bubbling emotion. The work concludes with a poignant moment of silence, followed by the profound and lonely lyric "adieu". Verdi's Saper vorreste from Uno Ballo in Maschera provided a light hearted culmination to Wright's program. The taunting lyrics were performed with all the cheekiness and spirit required, verifying Wright's versatility as a performer.
Also hailing from Brisbane was second performer, Morgan Jones. Opening with Rejoice Greatly, O Daughter of Zion from Handel's Messiah, Jones rendered the aria with apparent effortlessness, which contributed to the dignified ambience expected from Handel's sacred works.  C'est des contrebandiers le refuge and Je dis que rien ne m'epouvante from Carmen(Bizet) were presented next. These excerpts from Carmen placed great demands on the vocalist's dynamic range and Jones rose to the occasion. Throughout crescendoing passages, it seemed reasonable to assume that Jones had reached her largest achievable sound. Yet repeatedly, she proved she had even more to give and her sound continued to expand and fill the theatre beyond expectation. Embroidery Aria from Britten's Peter Grimes brought the repertoire forward to the 20th Century. Not surprisingly, Britten's work is rife with unconventional harmony tonality. The unpredictability of the melodic line did not create a feeling of unease because Jones led the audience so confidently through the aria. Her final aria was Steal me, sweet thief from Menotti's The Old Maid and The Thief. Jones delightfully presented this light-hearted yet reflective musing on an instance of unrequited love.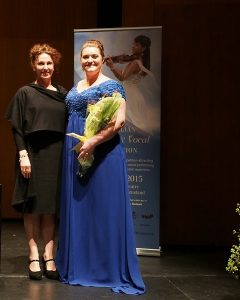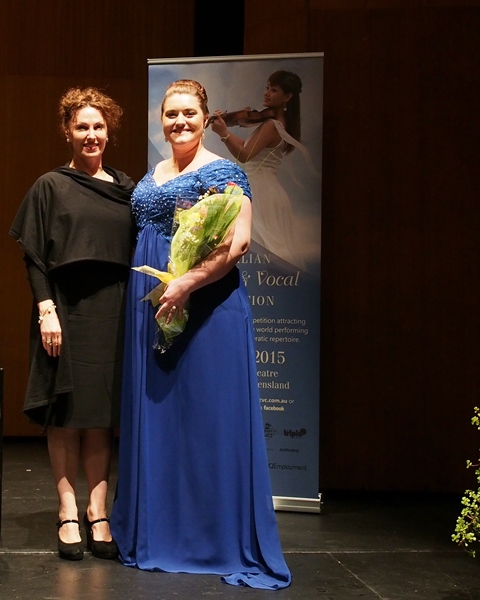 Townsville's own Bronwyn Douglass was the final performer. Douglass opened with Samson, recherchant ma presence, ce soir doit venire en ces lieux and Amour! Viens aider ma faiblesse! From Samson et Dalila (Saint-Saens). She presented the works with such poise, as if they were merely unfolding in front of her. Handel's Pompe vane di morte and dove sei fromRondalinda allowed Douglass to highlight her control over her dynamic range. The pieces required a reflective gentleness and varied dynamics, and neither was ever sacrificed to achieve the other. Next was Oh Patria! Dolce, ingrate patria! And Di tanti palpate from Rossini's Tancredi. Of particular note is ability Douglass exhibited in producing a powerful, rich sound on her low notes. Douglass presented Parto, parto, ma tu ben mio from Mozart's La Clamenza di Tito as her finale. It was an apt repertoire choice, allowing Douglass to showcase her full capabilities, not the least of which being the ability to execute large leaps between pitches in fast tempos.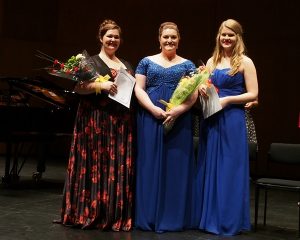 At the conclusion of the evening, the adjudication and prize presentation took place. 1st place was awarded to Bronwyn Douglass, 2nd Cassandra Wright and 3rd Morgan Jones. Bronwyn Douglass was also the recipient of the "Audience Choice Award"